Claire B. Soares, FOUNDED & CEO of Up in the Air Life, was recently announced as a 2021 Top Travel Specialist by Conde Nast Traveler, opens up about her favourite destinations, serves up some top travel tips and proves she really is the G.O.A.T when it comes to luxury travel planning.
The team at Up in the Air Life are thrilled to announce that our Founder & CEO, Claire B. Soares, has been named a 2021 Top Travel Specialist Condé Nast Traveler! And honestly, there is little wonder why!
Apart from being the G.O.A.T. of luxury travel planning, and the mastermind behind Up in the Air Life, Claire has traveled to over 6 continents and visited 62 countries.
She knows what's up when it comes to travelling and seeing the world, which is why we recently sat down with Claire for a deep dive on some of her best travel adventures to date
Saying hello to the locals: Claire in her element in Kenya at Giraffe Manor.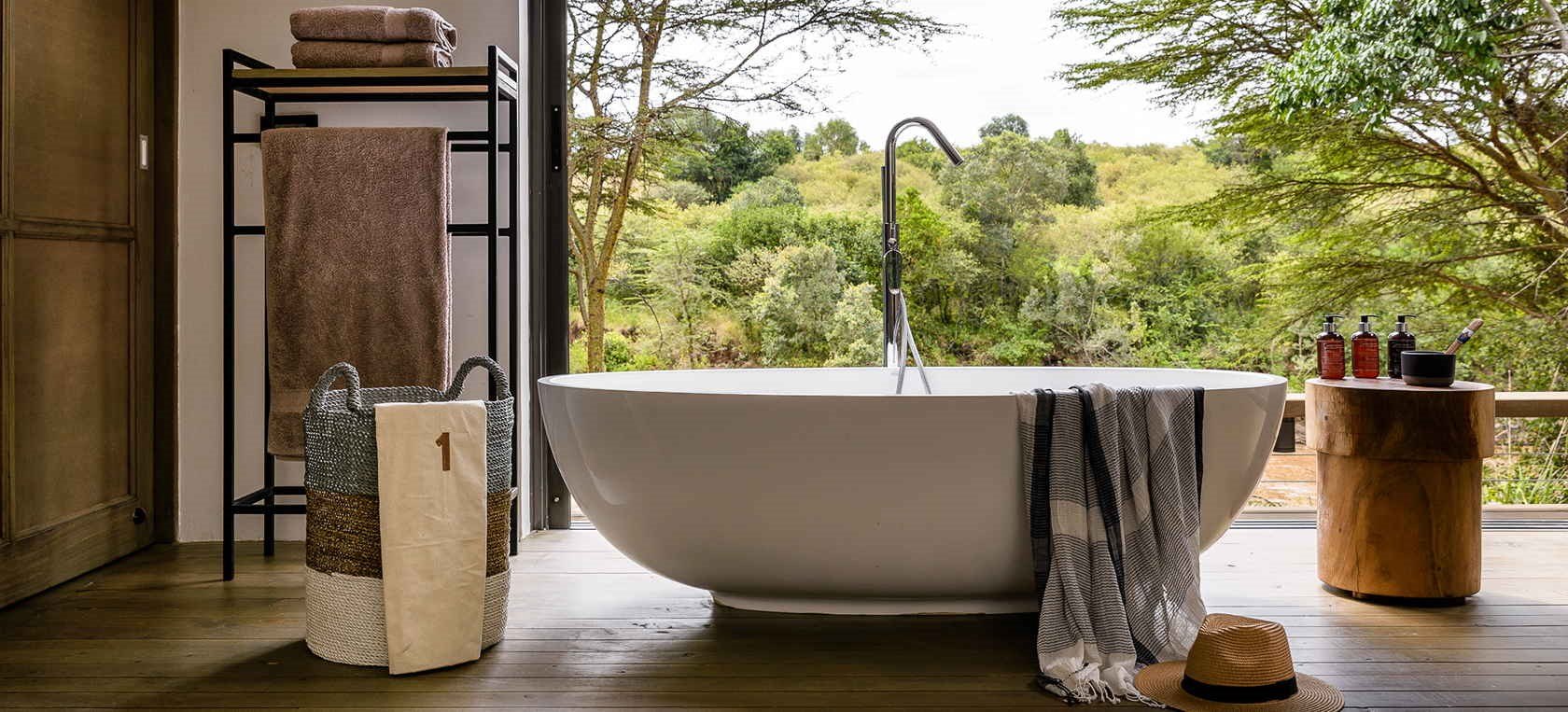 The Kenya + Uganda Experience: On Safari in Kenya, home to her favourite hotel in the world, Olanana.
Up in the Air Life: Claire, you've literally been all over the world… hands down, what's the best hotel you've ever stayed in and why?
Claire: The best hotel I've ever been to was Olonana, which is one of the Safari camp hotels on our Kenya and Uganda trip. 
I just love Olonana. One of the things I love most are the rooms… they are just so spacious. 
Most Safari camps, you'll just have a tent, but this an actual room. It's a huge suite, with a sunken half shaped moon living room, gorgeous big beautiful bed with the netting over it and it faces a river that is full of hippopotamuses just living their best life. 
Their rooms also have a huge wrap around balcony complete with daybed, so you can stop and take a moment to watch, not only the hippos, but elephants, monkeys and other wildlife… it's the bomb.
Back in the room, there is a massive slate floored bathroom area, with a rain shower that is big enough for you to lay down in, that has windows with vantage points out into a lush garden. 
And then on the river side of the room, there is a sunken tub that looks out onto the balcony.
The Kenya + Uganda Experience: The magic of Olonana at night.
The main area at Olonana is situated over the river bed, and there are a number of dining options. You can be seated inside or outside right on the water, under the shade depending on your preference. 
After a long day of adventure, the best spot at Olonana is their incredible bar, which at night time transforms into a spirit tasting lounge where you're served up all types of whiskey and of, because you're in Africa, incredible gins. 
It's the perfect place for a nightcap, as you sit near the roaring fire.
Olonana is by far my best hotel experience in the world!
And hey, if you want to experience Olonana for yourself or if you want to find out more, hit me up for a chat by clicking here.
Up in the Air Life: Dang, that sounds amazing! Would you say your best experience so far has been at Olonana too?
Claire: I've definitely had some amazing times there, but nothing can beat the time I have spent in South Africa. South Africa is such an incredible place because there is so much to do! From the city, the vibe, the culture… the history in Johannesburg, there is so much to do and see.
Because I'm a foodie, the dining in Johannesburg is world class! Marble, which is one of the best restaurants in the world, looks right over the City and the food is exceptional. The local nightlife is off the charts and the bars and nightclubs are unlike anything I have ever experienced. Marabi Jazz, Chef Sanza, Pan Africa Plate… 
From a historical perspective, and being a Black America, visiting Mandela's house is truly incredible. You're just immersed in history, and standing in the same places he stood at such momentous times in world history. It's awe-inspiring. 
There is so much to soak in when you visit The Mandela House. 
From local street food, markets and dancers as well as all the important locations you stumble across that played an important role in the South African Civil Rights Movement… it's overflowing with history.
The Apartide Museum is a must see and totally mind blowing. It's unbelievable to think that was only a few decades ago. There is just so much to learn when you visit.
On my last trip, we went to one of the sister properties of The Saxonist, The Shambala Camp, which is just outside of Johannesburg, and it's the most highly rated Safari in South Africa. 
It's absolutely gorgeous.
A quick flight out of Johannesburg and you're in Cape Town, which for me is a blend of Miami, the San Francisco wine area and Malibu. 
The Camp Bay area is gorgeous, with some of the best restaurants overlooking the water.
Downtown on the waterfront, I really love the Cape Grace Hotel, but ultimately being able to explore the beach area, the penguins, exploring the coast and the wine country… just so many amazing adventures. 
I discovered my favourite wine in South Africa; Pinotage, which I first tasted with chocolate, that's right CHOCOLATE… not CHEESE! Which totally won me over.
Definitely South Africa, there is something for everyone… urban, safari, wines, beaches… the helicopter ride over Table Mountain… there is so much to do and see.
The South Africa Experience: On Safari (top), our Safari hotel (middle) and taking a heli-ride around Johannesburg (bottom).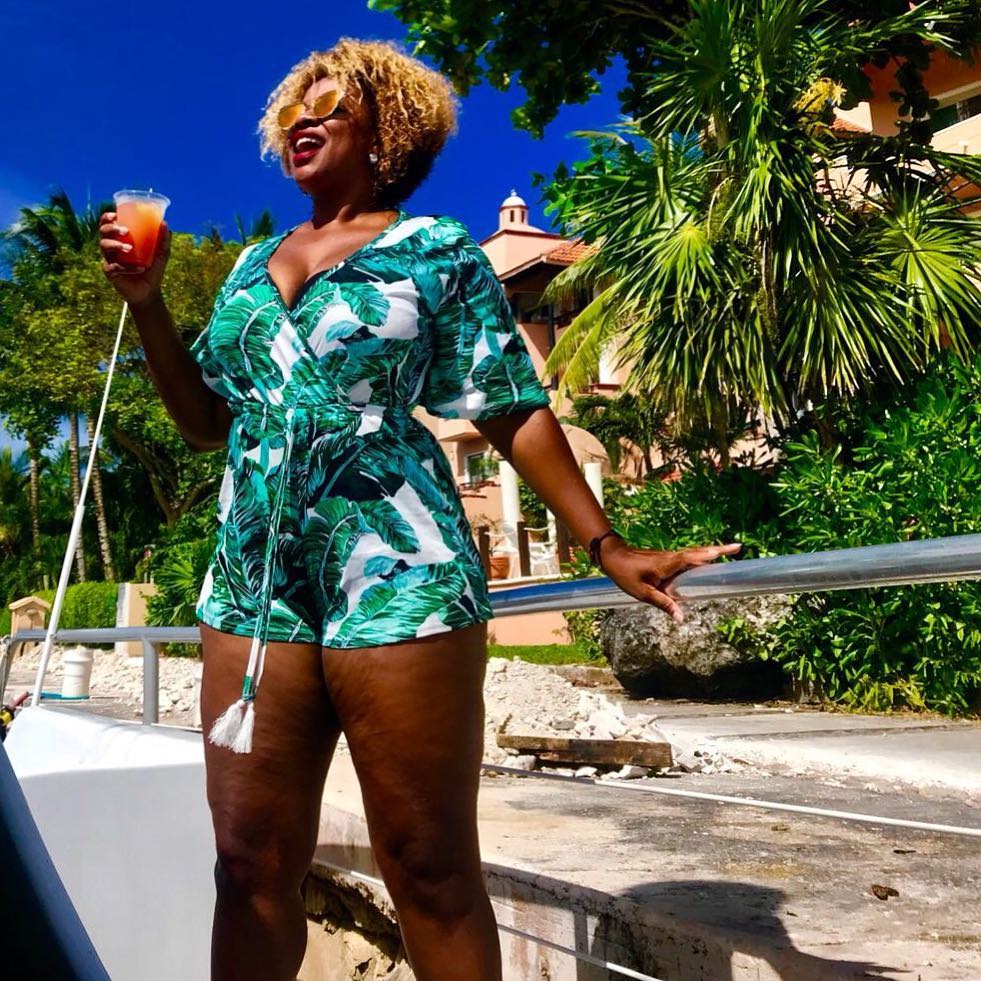 At home in Mexico: I love my life in Playa del Carmen… it's the best combination of comfort and vacation vibes. Photo credit: Anthony Turner.
Up in the Air Life: So with that said, we absolutely need to know your Top 3 Travel Destinations because South Africa sounds incredible!
Claire: I would have to say Playa del Carmen, Mexico since I live there most of the year. It's a small town and it's walkable. Ride your bike, walk around and there is something for everyone. Within 10 minutes I can go to a local restaurant and get tacos for $1. Or walk down the corner and get a Mexican Soup. 
Or I can go to a high end restaurant like Harrys or a steak house… or dine on Thompson Beach. So much to do from a local perspective, but also 
You're only an hour from Cancun too! 
My second is South Africa! Without a doubt.
And my third one, well it's a tie. Thailand and Italy. But if I had to choose, it'd be Italy. Florence is one of my favourite places in the world, and I just can't get enough of their pasta! 
Growing up and learning so much about Italy, then seeing the ruins of the Roman Empire, I wanted to cry the first time I saw it. Having dinner out the front of the Panthenon… just so mind blowing.
Up in the Air Life: Claire, you've been to so many incredible places, no doubt you have some travel hacks for all of us. What are your MUST HAVES for your carry on bag?
Claire: Great question! So the first must have is an Evian Water Mist, it keeps my face moist and a Magnesium Lip Balm because the cabin air can make your lips so dry!!
I also can't live without my Solar Charger, because keeping my phone charged without having to worry about an electrical outlet is super important to me.
I never travel without my Evolution Neck Pillow! Some of the flights I am on are 15+ hours, and there is no way I want a kink in my neck affecting my adventures when I land after a long day of travel. This pillow specifically gives you amazing support; perfect for a quick nap.
I love my beats, so my Bose Headset puts me in my own little world. No whinging babies, or annoying seat mates here! Just my own tunes!
And last but note least, this incredible Travel Humidifier. Your face deserves it and you'll breathe easier at night. Honestly, it's a no brainer.
Up up and away: Travelling in style is the Up in the Air Life way. Pictured with dear friend and business partner Rasheed Dennis.
Up in the Air Life: So out of all your tips, what is your top tip for a comfortable flight?
Claire: Having an enjoyable fight is so important! 
Regardless of class of service, pack your favourite snacks for your flight. 
My fave in flight snack is fried chicken, so a lot of times, before a long flight, I'll pick up fried chicken and mac and cheese from a soul food place! 
So that said, my number one tip is to pick up something great from the airport or make something before you go. 
Even if you're flying Business Class, the food can be good, but it's not always as good as your favourites. 
If you can control your food, you can get on the flight and order a nice glass of bubbly and just kick back. 
Dress comfortably!! And wear layers. A shirt underneath, with something soft and fuzzy on.
And don't forget your neck pillow! It's so important for a good rest while you're in transit. 
Up in the Air Life: It seems like you have been EVERYWHERE Claire… but what's next on your list and why?
Claire: Oh my god! I haven't gone to Antarctica…
We were meant to go last year on our Up in the Air Life experience, but we have pushed it to December this year and I can't wait. It'll be my 7th continent, because I've been to all the others, and I can't wait! I really want to go, because being able to see the glaciers and penguins, just feels like it's going to be a very surreal experience. I am super excited to possibly do the Polar Plunge and jump in the water. I'm a bit scared, but I might do it!
Also, once the world opens up, heading back to Italy and going to the Opera is on the top of my list!
—
Claire B Soares is the Founder & CEO of Up in the Air Life, a luxury travel company that curates exquisite trips to exotic destinations.
For more information on upcoming trips or to book a private trip planning call with Claire… keep scrolling!
The Antarctica Experience: "I can't wait to go on this trip! Seeing the glaciers, penguins… it's going to be the most surreal experience!"
LET'S DREAM AGAIN…
WE'VE DESIGNED UNFORGETTABLE EXPERIENCES ALL OVER THE WORLD —
Playa del Carmen, Mexico
June 16 - 20, 2021
Experience our first wellness retreat in the Riviera Maya at an award-winning Progressive Wellness Resort. The experience is fully inclusive of all activities, food, and alcoholic beverages.
Egypt
Oct 31 - Nov 10, 2021
Experience the one of the greatest civilizations on a trip of a lifetime. From the Giza Pyramids to the famous Sphynx, we'll explore Cairo, Luxor, and Aswan including a luxury sail down the infamous Nile.
Turks & Caicos High Life
Pick Your Dates
Explore the most beautiful beaches in the Caribbean. Go solo or with your crew. We can arrange socially distanced private excursions to experience horseback riding, yachting, and the best local sunsets.
Antarctica
December 10-22, 2021
Embark on an award-winning Luxury Expedition Cruise for the centerpiece of the Southern Hemisphere on a 13-day trip. The seventh continent is waiting for you.
Brazil
February 18 -24, 2022
Samba rhythms, lush landscapes, sugary beaches, and an endless party spirit are waiting for you. Have a taste of Brazil and live your best carnival experience in a 7-day luxury trip experience.
Iceland
March 9-13, 2022

March 13-17, 2022
Travel With Us To Iceland, The Magical Land Of Ice And Fire And Let Yourself Be Amazed By The Wonderful Northern Lights and Breathtaking Landscapes.
Tanzania + Zanzibar
March 20-27, 2022
Meet the best of Tanzania in this 8-day trip and meet the Sanctuary Swala, our exclusive safari experience, and the beautiful Zanzibar archipelago in the east cost of Africa!
Kenya + Uganda
April 1-8, 2022
Visit Kenya And Uganda experience Gorilla Trekking and Luxury Safari Experience Where Sun Beds, Extraordinary Wildlife, And Culinary Experiences Meet!
Singapore + Malaysia

April 23 -30, 2022

(SOLD OUT)
April 14 -21, 2022


This "Crazy Rich Asian" experience includes a stay at the infamous Marina Bay Sands and a couple over the top spa Treatments and private yacht charter around Malaysia!
Thailand + Cambodia + Laos


May 3-13, 2022

Meet Bangkok, Laos, and Siem Reap filled with unbelievable natural beauty, centuries of heritage, and friendly locals in the best of Southeast Asia.
Vietnam
May 16-25, 2022
Join Us In This Magical Journey To Vietnam, Where The Old And New Asia Merge. This journey includes a sail on Halong Bay, Mekong River Delta, Ho Chi Minh City, and more.
Indonesia
May 28 - June 3, 2022
Join us on the most Instagramable journey through Bali And The Gili Islands. From lush rice fields, waterfalls, volcanoes, and turquoise waters - this place is a fairytale.
Peru
June 24-30, 2022
June 17-23, 2022
Travel with us on one of the most epic luxury trains where dining includes multi-course meals while you watch the scenic mountain and ride up to Machu Picchu, Arequipa, Puno, Cusco, And Lima.
Croatia
July 9-16, 2022
August 13-20, 2022
A private mega-yacht with your people makes this experience a one-in-a-lifetime. Sunbathe during the day and party on our quadruple deck yacht as you explore Croatia.
Greece
July 19-27, 2022
July 29-Aug 6, 2022
It's time for an ancient history lesson with ruins, beaches, luxurious resorts and Endless Summer Vibes In Greece. Savor your journey through Athens, Mykonos, and Santorini.
Ritz Carlton Super Yacht
August 13-20, 2022
From Greece to Turkey, explore the contrast of the Greco-Roman ruins, an Ottoman castle, a deserted beach in Bozcaada, and the illustrious Blue Mosque in Istanbul.
Egypt
September 17 - 26, 2022

Experience the one of the greatest civilization on a trip of a lifetime. From the Giza Pyramids to the famous Sphynx, we'll explore Cairo, Luxor, and Aswan.
Portugal
September 9-15, 2022

September 18-24, 2022
Visit Lisbon, Porto, and the Douro Valley with wine educator, Julia Coney, This trip is the ultimate food and wine experience including private tastings and gourmet dining.
Ghana
September 29-October 5, 2022
October 7-13, 2022
Take a deep dive into West African history during this journey that explores the culture, food, expansive markets, nightlife, and history at the castles. We explore Accra, Volta, and Cape Coast.

France

October 13-20, 2022 (SOLDOUT)


October 23-30, 2022


Visiting the Champagne and Cognac region of France with wine educator, Julia Coney, is a grandiose over the top experience not to be missed. Private tastings, shopping, and elaborate meals are just the beginning...

South Africa
November 2-12, 2022
(SOLD OUT)
November 13-23, 2022
This ultra-luxe South African adventure includes butler service, cooking classes, a helicopter tour, a private wine tour and dinner, and an award-winning safari!
Thailand Sailing
Every day is a new adventure on board of our luxe catamaran. Enjoy amazing days in these magical turquoise waters and get aboard on this Thailand Sailing Experience!
Seychelles
Join us in this luxury catamaran to meet the Seychelles Islands. Private Chefs and new islands every day are waiting for you in this luxe sailing experience to Africa!
British Virgin Islands
Up in the Air Life proudly presents Urban Yacht Week in the British Virgin Islands. Experience a week sailing in one of the best sailing locations in the world. Everyday is a new island and adventure.

Cuba

Join Up in the Air Life on this adventure to the pearl of the Caribbean and wander around the magic, history, nature, and multifaced traditions of Cuba.
Israel
Travel to one of the most sacred countries in the world with Up in the Air Life, and join us on this adventure to discover the landscapes, culture, nature, religions, and food of Israel.
Jordan
Join Up in the Air Life and travel to Jordan into this experience that will leave you breathless. Visit the meticulously carved city of Petra, and wander around the multi-faced culture of Jordan visiting ancient monuments, nature reserves, and beautiful resorts.

Ethiopia

Join us to travel to the very end of the Nile river in the horn of Africa! From thundering waterfalls and ancient religious medieval architecture to vibrant and modern cities home of the African Union, Ethiopia is the place for you to wander the natural beauty and history of Eastern Africa.
Botswana
The variety and abundance of landscapes, make Botswana one of the top countries to visit in Africa. Travel with Up in the Air life to the Home of the Big Five and numerous parks, luxurious sanctuary retreats, and deltas in the south of the continent.
Namibia
Explore the eastern coast of Africa with Up in the Air Life and travel to Namibia. The abundant wildlife, mesmerizing deserts with starry skies, vibrant culture, and exotic beaches make Namibia a game-changing destination that every globetrotter must visit.
Chile
Join us in this trip to the southernmost region of the Patagonia in Chile! Enjoy a luxury 9-day trip full of breathtaking landscapes, and the beautiful city of Santiago where you'll taste the best of the Chilean culture.
Argentina
Travel to Argentina, the perfect mix between Latin passion and European Romance, and join Up in the Air Life on a gastronomic tour from the dynamic mecca of Buenos Aires to the beautiful city of Mendoza for culinary pleasures, some of the best wines in the continent, tango and mesmerizing landscapes.
Australia
Up in the Air Life proudly presents our first trip to Australia! Home of the great barrier reef, Kangaroos, and the most stunning landscapes on the continent, Australian culture captivates all your senses on this luxury trip around the country.
Dubai
Join Up in the Air Life and travel to one of the most instagrammable and luxurious cities in the world, Dubai. Discover its rich heritage and the most vibrant nightlife in Arabian peninsula. luxury shopping, ultramodern architecture, and long lasting friendships are waiting for you on this trip.
Senegal
Both exciting and calm, Senegal charm will captivate you through this experience. Join us on this trip where one of the finest beaches, a pink lake, and luxury resorts meets African western traditions.
Where will you go to embrace the finer things in life?
Schedule a call and let Claire help you embark on a vacation that is worthy of your invisible crown.
Claire hustled so you don't have to.
Up in the Air Life founder and CEO, Claire Soares, built a multimillion-dollar boutique travel agency to create space for you to let your guard down and travel with confidence amongst other like-minded Black people.
At least a third of our clients book their next trip with us within about a year.
Claire Soares was recognized as one of the six most influential Black women in the travel industry and as a Top Black Travel Leader from the Inaugural Airbnb list. Read more about Claire.
SERIOUSLY, IT'S TIME FOR YOU TO —
Say "Bye, Felicia" to your excuses.
Want us to help you shut them down?
Don't mind if we do…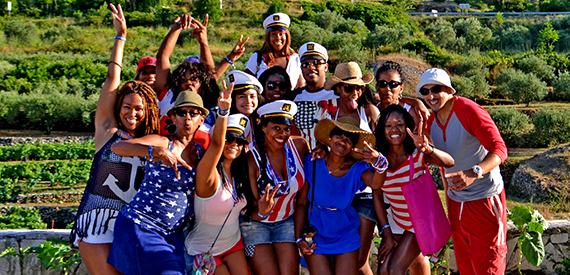 "I want to travel, but planning a truly immersive trip is overwhelming."
We cover all the details — not just obvious things like booking your flights, making your reservations, and keeping you safe, but also hand-selecting experiences that excite your senses and stir your soul. All you have to do is show up — literally.
"None of my crew wants to go where I want to go."
This trip isn't about them. This is your time, your chance to fully experience the life you've worked so hard to build. And you're in good company. Most of our travelers join our trips on their own. So, connect with like-minded travelers who look like you and create lifelong friendships.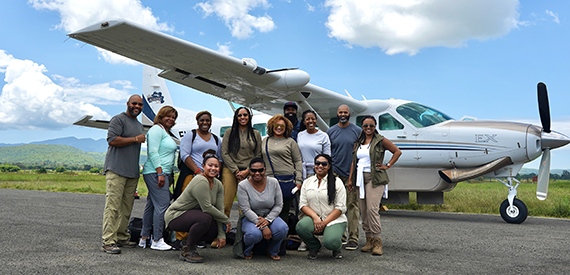 "I could get into a little pampering, but my budget is more 'first-class' than 'private jet.'"
Luxury travel with reasonable pricing is our thing. And, we don't cut corners. We're talking Michelin restaurants, 1,000 thread count sheets, and private yachts, but at group prices with a network of vendors around the world who adore our travelers.
So, travel far. Be safe.
Let go.
IN CASE NO ONE ELSE IS TELLING YOU —
We don't say this lightly.
Our trips attract the kind of professionals who are killing it on the daily.
And, while that's commendable — no one can keep up that pace forever.
So, let's pop some bottles and take time to celebrate life!
Come back rejuvenated and ready
to build the next piece of your empire.