There aren't very many places in the world where you can swim in healing milky blue waters, dive in between tectonic plates, and see the Aurora Borealis color the sky on an upscale trip.
Join us on our 5-day upscale adventure (4 stars) in Iceland and experience the land of ice and fire on a deeper level than the documentary narratives you've been taught. You can't call yourself a globetrotter until you have experienced the Northern Lights in Iceland for yourself.
Do you hear that? That's the sound of one of the most powerful waterfalls in Europe thundering over the amazing black and green landscape, and your crew wowing on geysers shooting hot water at almost 130 feet into the air in front of smoldering volcanoes.
And you didn't come snatched for nothin'! The pics you will snap of your melanin poppin' inside the milky waters of the blue lagoon will be enough to shut down the gram, no cap.   
Whether you are tantalizing your tastebuds with an incredible four-course meal, exploring the landfills, or simply relaxing in the dreamy spa, the breathtaking scenery will make you feel blessed to experience the beauty of Iceland. This place is so magical that you actually have to pinch yourself, as every vista will feel like a dream.
Priceless moments with new friends, beautiful landscapes, and pampered relaxation await on your Up in the Air Life journey through the volcanic expanse of Iceland.

Love the trip but not the dates?
GO NOW OR LATER WITH PRIVATE TRIP PLANNING
Here's your trip at a glance.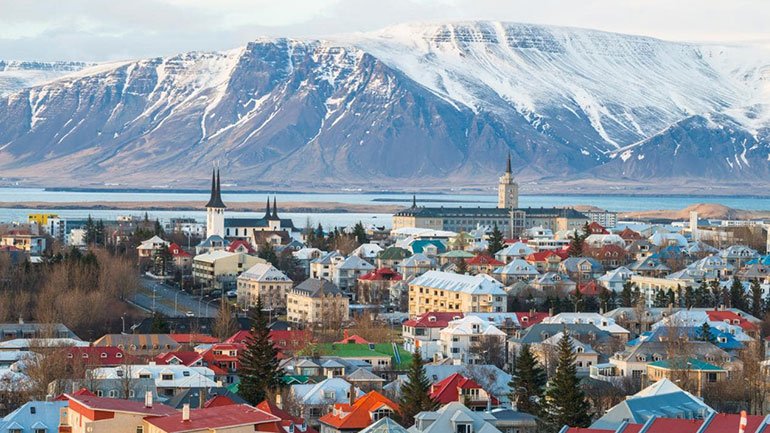 From exploring Reijavik's downtown, to gazing at the breathtaking Northern Lights, this trip offers a wide variety of scenery (and selfie) opportunities. You will be able to check must-see sites like the Gullfoss Waterfall, the volcanic crater at the Lake of Kerið, the blue lagoon, and the Northern Lights off your bucket list.
This trip is your chance to be classy, bougie, and a little ratchet. From dining on food created by the finest chefs and learning about Iceland's unique history and nature, to pampering yourself in a natural spa, you will experience the full spectrum of Iceland's multifaceted high life and culture.
Our accommodations are so extra. After a long day admiring the majesty of the Aurora Borealis, exploring the funky downtown, or taking in the smoldering volcanoes, you will relax in a exquisite hotel, garden lodge, or freestanding suite. Only the best for Lifers!
Explore the day-by-day itinerary.
THIS TRIP IS FOR YOU, IF:
THIS TRIP IS NOT FOR YOU, IF:
Welcome to Keflavik Airport!
Welcome to Iceland! Arrive at Keflavik Airport (KEF) with a private transfer to your premier boutique hotel, where you will spend the rest of the day at your leisure. 
In the late afternoon, we'll gather for a meet and greet cocktail reception followed by a sensational welcome dinner at a Michelin Guide restaurant. 
This intimate restaurant brings flavors and flair from the coastline of Northern African, to Lebanon, and to Icelandic cuisine.
Thingvellir National Park is one of the only places on Earth where you will be able to see and touch North American and Eurasian tectonic plates. You can even dive and snorkel right where the two continents meet.
After lunch, we'll admire the oldest documented European Geysir that shoots hot water almost 130 feet into the air. 
We'll close out the day by visiting the second most powerful waterfall in Europe, and Iceland's most famous waterfall, Gullfoss Falls. It'll sound like thunder as the fall rumbles through your core. 
Last but not least, we'll stop at the amazing volcanic crater at the Lake of Kerið to marvel at the vivid aquamarine color of the water. It's definitely Instagram worthy!
After a tasty breakfast, you'll have a free day to explore Reykjavik's small, funky downtown area. 
In the late evening, you will be awed in a trek to enjoy the magnificent sights of the Aurora Borealis. This extraordinary display of lights is a unique connection to Iceland's history, culture, and ambiance. 
So sit back, eyes pointed to the sky and simply enjoy the evening.
You've waited a long time to see this.
Rise and shine! 
Because no trip to Iceland is complete until you've soaked in the beautiful steamy, milky blue waters of the geothermal spa of the iconic Blue Lagoon, today we tick that off your bucket list.
You'll also enjoy a unique and truly unforgettable multi-course farewell dinner on the shores of the world wonder.
A once in a lifetime experience.
Rise and shine for your last morning in Reykjavik. 
Enjoy a delicious breakfast as you reflect on an amazing week. 
Your Up in the Air Life private driver will then whisk you away to the airport for your flight back home.
Safe travels.
Wanna go on the trip of a lifetime and not have to plan it?! Of course you do! Then travel with Up in the Air Life...thank me later. They are so organized that I didnt have any worries about the accomodations, excursions or dining choices. The staff was so friendly and helpful, it was like going on vacation with your cousins and 'nem. Up in the Air Life is the only I'll travel from now on.
Alexis Sophia Thomas
ANY trip w/ Up in the Air Life is extraordinary!! If you are seeking the true Class Act among travel companies, Up in the Air Life is it!! They have raised the bar on group travel!! Worth EVERY penny!!!
Lana Fountain
No matter where you travel, our standards are the same.
YOU CAN ALWAYS EXPECT TO:
Connect with amazing people.
We provide the opportunity to make friendships with people who share your worldview and won't ask why you wear a bonnet to sleep.
Experience attentive
and authentic hospitality.
Not only is the staff of Up in the Air Life dedicated to making sure your trip is flawlessly executed, but we are also intentional about choosing locales and vendors who celebrate Black travelers.
Be pampered with only the best.
There is no need to take a break from your baller lifestyle when you travel with us. Our lodging, excursions, and dining are pure luxury.
Feel safe and secure.
Our experienced American guides and well-maintained local relationships mean that you will have peace of mind when you travel with us.
Say "goodbye" to FOMO.
Our trips are anything but basic. While we make sure you see well-known main attractions, we also develop itineraries that will give you unique stories to share with your friends back home.
HERE'S WHAT YOU SHOULD KNOW ABOUT
Our trips get you close to that Beyoncé-on-a-boat lifestyle. Let us handle your travel style glow up.
Up In The Air Life Onsite Staff
4 nights stay in a top-rated boutique hotel.
Daily breakfast
Admission to the Blue Lagoon
Welcome Dinner at Lava Restaurant
Walk behind the waterfall at Seljalandsfoss, weather permitting
See the black sand beaches of the southern coast
Go to Iceland's southernmost village in Vik
Visit the glacier snout of Sólheimajökull
Marvel at a unique landscape of rivers waterfalls and glacial mountains
Admire the stunning beauty of Skógafoss waterfall
3 hour Northern Lights deluxe tour from Reykjavik
Includes air-conditioned transport by minivan
Onboard Wi-Fi
Golden Circle small-group tour from Reykjavik
Thingvellir National Park Onboard Wi-Fi
Farewell Dinner at Sumac Restaurant
Airport transfers
Personalized Swag Bag
We take care of all the details on your itinerary once you land. If you want to further personalize your experience, go off!
Round Trip international airfare to and from Reykjavik, Iceland. (KEF)
Passport/Visa Fees. You do not need a Visa if you are a U.S. citizen
3 Dinners are not included
4 Lunches are not included
Activities not mentioned in the itinerary
Travel medical insurance Tips and Gratuities ($300 can be prepaid post booking)
Can you envision yourself on this trip?
Download "The Iceland Experience" trip brochure and keep it handy as you continue to explore, or take the plunge and book now.